Brake Fluid Service… What is it?
Your car's brake system is its most critical safety system and you should check it immediately if you suspect any problems. A properly operating brake fluid system helps ensure safe vehicle control and operation under various conditions.
What does Brake Fluid Service do?
When you push the brake pedal, the force generates hydraulic pressure in the master cylinder. This pressure flows through the hydraulic lines and hoses to the wheel cylinders and calipers, forcing the shoes against the drums (drum brakes) and the pads against the rotors (disc brakes). The resulting friction slows the vehicle and is relative to the amount of force applied at the brake pedal.
Typical Wear and Tear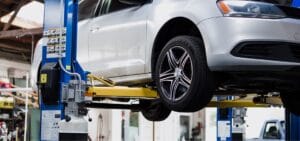 Brakes are a regular wear item for any car and eventually, they're going to need replacement. Avoid letting your brakes get to the "metal-to-metal" point, which usually means expensive rotor or drum replacement. Factors that affect wear include driving habits and the quality of brake pads and shoes.
Symptoms
The car pulls to one side during braking
Pulsating brake pedal or steering wheel shake
The brake pedal feels "mushy"
Unusual noise when you step on the brake pedal
Repeatedly need to add brake fluid to the master cylinder
Brake fluid sprayed onto the outside of the wheel
Unusual odor or noise
Here at Pete's Autohaus, our Service Team will be happy to handle your Car's Brake Fluid Service and other Maintenance Needs. Click here to set an appointment online or drop by our shop anytime!